Look where your avatar is. Under it it should look like this:
Posts:
#
Private Messages:
#/#
My profile
So look at Private Messages
The first number is your unread private messages
The second number is your read private messages
I had a picture to show you, but the site is slow and won't let me.
Edit: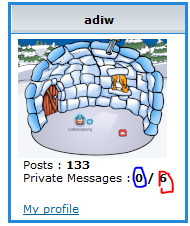 Red = read
Blue = unread
Last edited by adiw on Tue Jul 13, 2010 3:55 pm; edited 1 time in total

adiw

Oh I'm Fancy




Posts

: 601
Coins : 417



Also, you can press profile and then press preferences, and there is an option that makes it when you get a PM it tells you, like a message shows up on your screen. I think its called notify me when i am pmed or something like that. But switch that from no to yes.

I Laugh at your Misfortun

Red Belt




Posts

: 448
Coins : 225



I kept it at no, I don't want any pop-ups, and my first PM was after I finished with my settings.

adiw

Oh I'm Fancy




Posts

: 601
Coins : 417



*site Guides must have pictures. Please add pictures in the next 24hrs or this topic will be basketed*
___________________
Wise Penguin,
Forum Administrator

Wise Penguin

Founder





Posts

: 730
Coins : 252

My Pet
My Puffle: White
Pet's Name: SnowFlake



adiw

Oh I'm Fancy




Posts

: 601
Coins : 417



___________________
Wise Penguin,
Forum Administrator

Wise Penguin

Founder





Posts

: 730
Coins : 252

My Pet
My Puffle: White
Pet's Name: SnowFlake



adiw

Oh I'm Fancy




Posts

: 601
Coins : 417



Thanks for this useful guide! :D

Bobby

Blue Belt




Posts

: 152
Coins : 241




adiw

Oh I'm Fancy




Posts

: 601
Coins : 417




---
Permissions in this forum:
You
cannot
reply to topics in this forum